I have been working in education since 2013, when I co-founded – at first an informal collective, and later a foundation – Paper Beats Rock, focused on non-institutional and workshop education in the field of visuality, photography, work with an image and storytelling. In 2014, we started a series of Points workshops focused on combining threads related to the sociology of urban space, microsociology and photographic work.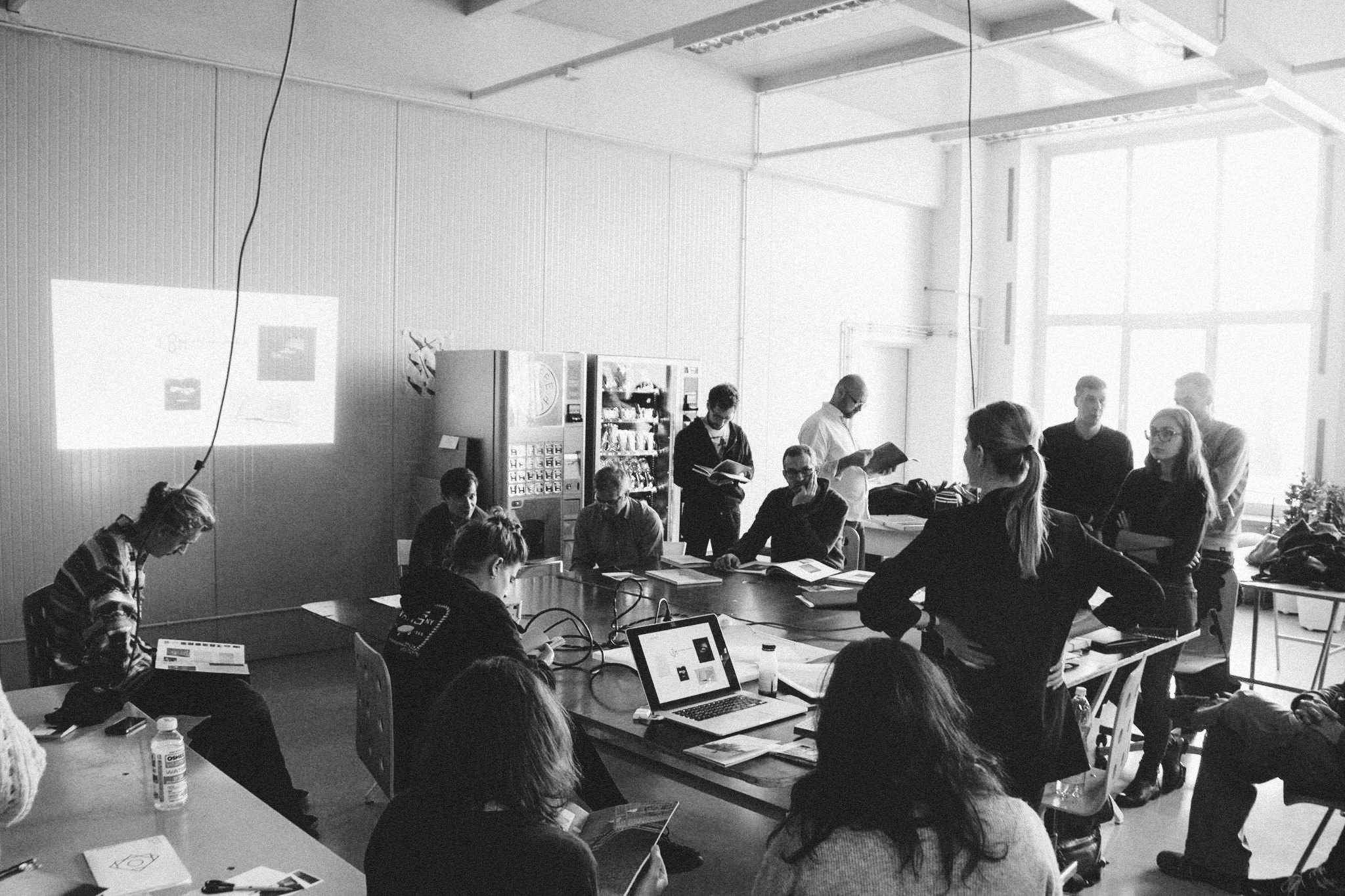 We run workshops in many major cultural and educational institutions including: the Academy of Fine Arts in Warsaw, Ośrodku Postaw Twórczych in Wrocław, PWSFTViT, the Miejska Galeria Arsenał, Pauza Gallery or as part of the Fotofestival.
In 2015, I stopped cooperating with the foundation and together with Paweł Starzec and Jan Rogało we established the informal educational and publihing collective Azimuth Press, in which we continue to work with various cultural institutions and universities in the field of visual education. For two years I have also been conducting regular classes at the ZPAF Photographic Studio.
Just like a strong theoretical basis, I believe in the importance of doing things with your hands. During my time at Academy I learned traditional techniques of workshop graphics such as lithography or linocut. I learned bookbing, and now I deepen this knowledge in courses. I also printed zines in various techniques, including a risograph. I believe that knowledge of many production processes is not only an inspiration, but also a basis that allows the designer to later embed my activities in the context of technical and formal possibilities.
EDUCATOR / REVIEWER

ZPAF, Warsaw – Academic course on book design

---
Krakow Photomonth Festival
---
Fotofestival, Łódź
---
TIFF, Wrocław [w / Azimuth Press]
---
Sztuka Wyboru, Trójmiasto [w / Azimuth Press]
---
Photobook Club Trójmiasto [w / Azimuth Press]
---
Leica Gallery, Warszawa [w / Azimuth Press]
---
Odessa/Batumi Photo Days, Odessa
---
School of Form, Poznań
---
Polis(h) Photo Lab, Witebsk (as part of Association of Creative Initiatives "ę" program)

---
CPK, Warsaw [w / Azimuth Press]
---
państwomiasto, Warsaw [w / PBR foundation]
---
Academy of Fine Arts in Warsaw [w / PBR foundation]
---
Służewski Dom Kultury, Warsaw [w / PBR foundation]
---
Fotofestival, Łódź [w / PBR foundation]
---
Warsaw Photo Days Festival, Warsaw [w / PBR foundation]
---
Akademia Fotografii x Lens Escuela de Artes Visuales, Kraków [w / PBR foundation]
---
Pauza Gallery, Kraków [w / PBR foundation]
---
Print Control Week, Museum of Modern Art, Warsaw, [w / PBR foundation]
---
OPT, Wrocław [w / PBR foundation]
hello@mwyrzykowska.com

00